| | |
| --- | --- |
| | Our Wedding Story |
Wedding & Reception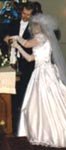 The wedding went off with a hitch...we got hitched! Everything was just perfect, except for my veil falling back down over my face after we lit our unity candle. I think we had smiles pasted onto our faces for days afterwards! After the ceremony, we stood for endless pictures, but we had a great photographer and things went very smoothly.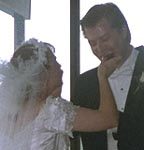 The reception was wonderful! The food was excellent, and things went smoothly. After eating, we cut the cake. For those of you who are nosey, Joe was very nice about feeding me cake, but at his request, I left a tiny bit of icing on his nose! Then we served the cake to each guest. I'm so glad we did! That removed the need for a receiving line, and was a great time for us to thank our guests for coming. Unfortunately, that also kept us from really enjoying the cake ourselves until a year later. But if we had it to do over again, we still would serve our guests.

We also did something a little different by having a dance floor and allowing our guests to dance, but not dancing ourselves. The traditional Father-Daughter dance was replaced by me sitting on my Daddy's lap while Bob Carlisle's "Butterfly Kisses" rang out. I'd never heard the song before but had asked the DJ if he could find it based on Joe's suggestion. It's a perfect song for a wedding.
---

[Bride's Home Page | Groom's Home Page]
---
This site is sponsored by Web Publishers.
To find out how you can get a web site, send e-mail to jpearson@webpub.com.