| | |
| --- | --- |
| | Our Wedding Story |
Garter, Bouquet, and off we go!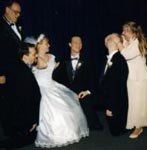 Eventually it was time for the garter and bouquet tossing. Two of the groomsmen knelt and put their knees together to create a makeshift chair for me. Mom covered Joe's eyes with her hands and still expected him to be able to find the garter, which he did. Then Joe tossed the garter, and my friend Earl caught it. Afterwards, I tossed the bouquet, and Joe's sister Adina caught it.

We gave her a seat, and Earl knelt to put the garter on her leg. Out of nowhere, Joe's Mom came and covered Earl's eyes. It took very little encouragement from Joe for me to stick my leg in front of Adina's so Earl put the garter back on my leg instead of on hers. We all had a great laugh!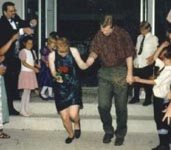 Before we knew it, the time had come to leave for our honeymoon. We found places to change into going-away clothes, after we finally figured out where all of them were. Then we were showered with birdseed on our way to the car. After a few last pictures followed by numerous hugs and kisses, we were off on our honeymoon!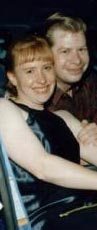 UNTIL....twenty minutes up the road, Joe realized that his wallet was still in his Tux pocket, which was at the moment in a van, we presumed was in my parents' van heading in the other direction, or would be soon. We made a quick turnaround and headed back to the reception site, hoping to flag down my folks' van before we got there. It must have been quite a sight...the two of us driving at light speed with our faces pressed up to the windshield trying to spot them. When we were almost back where we started, we spotted the van and managed to flag the whole caravan of people down. I wish I could have seen the worried look on my Dad's face, but I was still struggling to get out of the car. By the time I got out, Joe had explained the situation in 3 simple words that had an amazingly calming effect: "Forgot my wallet!" After more hugs and kisses, we were, once again, off on our honeymoon!
---

[Bride's Home Page | Groom's Home Page]
---
This site is sponsored by Web Publishers.
To find out how you can get a web site, send e-mail to jpearson@webpub.com.