| | |
| --- | --- |
| | Our Wedding Story |
Getting ready...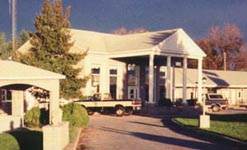 Joe's Mom and younger siblings flew in from Taiwan 10 days before the wedding and stayed at my family's motel. The attendants also began arriving during that time and stayed with us, making for a very full dinner table. It was so much fun having so many family and friends together during that week and a half. And Joe's folks weren't half as weird as I thought they'd be!
We watched movies, swam, went shopping for going away outfits and gifts, played games, talked endlessly, and generally had lots of fun while we were all together. You haven't lived until you've played "Shark!" with 6 of Joe's brothers and sisters (and then some)!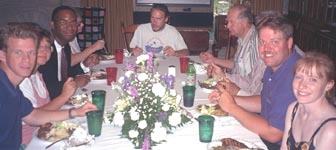 On the evening before the wedding, we had our rehearsal, and things went quite well, though a little long. I was incredibly nervous through all of this! Then we had our rehearsal dinner at my parents' house. We barbecued some steaks and baked some potatoes for the occasion. That night before the wedding, the men took Joe away to see a movie before he turned in for the night at Hering Farms--accommodations provided by the family of one of my bridesmaids. I missed him something terrible that night, and the next day I wasn't even allowed to speak to my love on the phone before the wedding!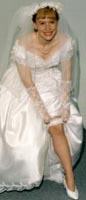 We all missed lunch on the wedding day because we were at the church by noon getting ready for the ceremony. Despite all my nervousness before, I was calm as a kitten all day! My new sister-in-law Holli had the honor of French-braiding my hair, while her sister Adina was in charge of the make-up. Why does it take so long to get ready for a wedding? Time flew anyway, and before we knew it, my Dad and I were walking down the aisle with him whispering in my hear "Where's the fire? What's the rush?" and me answering "I'm getting married!"
---

[Bride's Home Page | Groom's Home Page]
---
This site is sponsored by Web Publishers.
To find out how you can get a web site, send e-mail to jpearson@webpub.com.